Bead Embroidery & Leather Bracelet Beading Ideas
Showing all
made using
and
This is a grouping of three bead embroidered cuff bracelets created using different types of fabric, leather, suede, glass seed beads, freshwater pearls, glass beads and semi-precious jade chips. I love bead embroidery because it feels like I'm painting with beads.
Kaleidescope Cuff is a celebration of colour, form and texture. I started off with a brass blank interior and covered this with pink Ultrasuede.  I try to avoid using dressed leather as some people are allergic to the dressing.  The Ultrasuede has been glued down with industrial strength glue and cut slightly larger than the cuff […]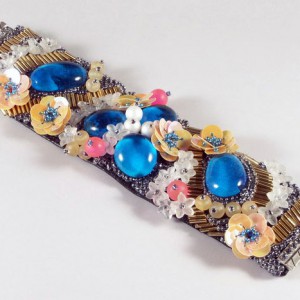 I embroidered on canvas with seed beads, bugle beads, and glass beads in complementary blue tones. I then lined the canvas with leather.
Shop for Leather Bracelets on Etsy