Bead Embroidery & Glass Bracelet Beading Ideas
Showing all
made using
and
This is a grouping of three bead embroidered cuff bracelets created using different types of fabric, leather, suede, glass seed beads, freshwater pearls, glass beads and semi-precious jade chips. I love bead embroidery because it feels like I'm painting with beads.
Memory wire bracelet incorporating freshwater pearls, mother of pearl beads, glass beads, handmade fabric beads, and a bead embroidery panel. I wanted to create a fun, easy to wear piece with an eclectic feel.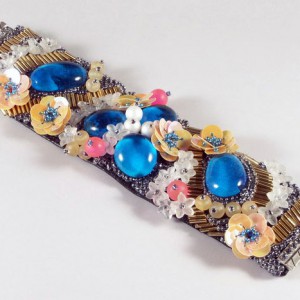 I embroidered on canvas with seed beads, bugle beads, and glass beads in complementary blue tones. I then lined the canvas with leather.
Shop for Glass Bracelets on Etsy