Macrame & Glass Bracelet Beading Ideas
Showing all
made using
and
Inspired by spring, I created this macrame style bracelet that combines fibers with lampwork beads and Czech glass. The flower beads are attached to the fiber vine through a series of knots.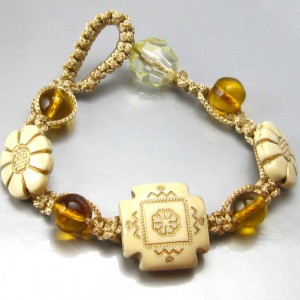 This is a very simple macrame bracelet hand knotted with a shiny synthetic gold colored cord. the beads are cream colored resin and 8mm honey/amber glass. The knots used are lark's head and the square knot. It is finished with a loop and bead closure. The closure bead is acrylic. Very easy to make!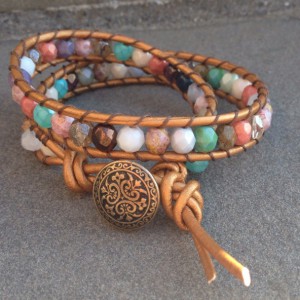 For this bracelet I used 4mm Czech glass beads I bought at a bead show, bronze-colored leather and Griffin silk thread. The button used was purchased from a store that was going out of business. The bracelet wraps around the wrist one time. This was my first attempt at making a wrapped bracelet.
Shop for Glass Bracelets on Etsy