Healing Properties of Opal
Learn the meaning of Opal, properties and uses of Opal.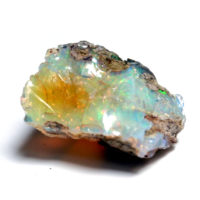 Opal's fire carries a spiritual energy that burns through attachments, wounds, and negative patterns. It can amplify your emotions, bringing semi-conscious patterns to the surface of your awareness to be dealt with. When these are cleared, it also amplifies joy.
Opal As a Gemstone
A semi-transparent iridescent stone composed of silicon and water. The background color can either be white or black, which sets off the iridescent "fire" quite differently.