Healing Properties of Labradorite
Learn the meaning of Labradorite, properties and uses of Labradorite.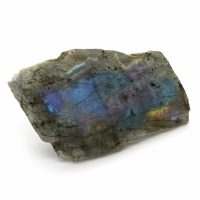 Labradorite awakens psychic abilities such as telepathy and prophecy. It facilitates self-mastery and awareness of multiple layers of reality at the same time; thus it is a good stone for shamanic work.
Labradorite As a Gemstone
Labradorite is a variety of feldspar which has a varied display of colors suggestive of the northern lights. Although it has a dirty grey colour in the rough, cut stones aquire a metallic lustre and an iridescent sheen at the right angle. The stones are usually cut with a flat surface and have been carved as cameos. The original source circa 1770 was the island of St.Paul, Labrador.