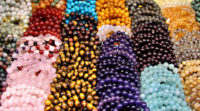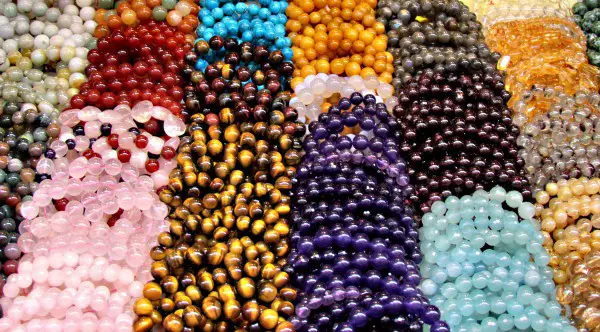 Supplies
gemstone beads of your choice. 8mm is a good size.
one bead with three holes, or a large bead with large hole
scissors
Directions
Cut a piece of cord that is the length of the finished piece plus about 4 inches. String the beads onto the cord. I find if I put tape on one end of the cord it helps the beads not fall off as I'm stringing.
Finishing
You have several options in finishing the bracelet, depending on what supplies you have on hand.
1. This finish depends on having the traditional three-holed bead. You push the cord through both sides of the bead and up through the top, and then tie an overhand knot.They are called "Guru Beads" or "Mala Beads" and if you do a search on Google you should be able to find a supplier or try here or here. I also found this site where you can buy a tool to make your own. You might also try asking at your local bead store to see if they sell them.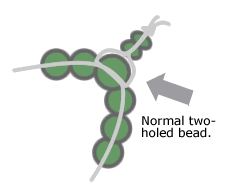 2. This gives the effect of the three holed bead without actually having one. You criscross the cord within the end bead, and then pull it up and through another bead before making a knot. The cord would be visible, but hopefully not look too bad. I would choose a cord color that complements or matches your gemstone.
3. This method looks more seamless, but the bracelet lays a bit differently. Experiment to see which finish you like best.

This is how to make an overhand knot. You may wish to use an awl or a small gauge knitting needle to assist in making the knots snug against the end bead.
If you plan to make a lot of these, you may want to invest in a tool called the "Tri-cord knotter" which makes this operation faster and easier