Besides wire, all you need is jewelry pliers and findings. You may also want a jig, anvil, and small hammer for hammered wire. A wire jig can be helpful in shaping certain pieces.
Materials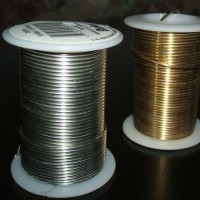 Wire
Thin strands of metal wire provide a stringing material that is both strong and stiff enough to add structure to a beaded project. Wire is sold in different sizes which are called gauges, with smaller numbers being thicker.
Pliers
Make sure you buy pliers from a beading store or mail order beading source, as the ones sold in hardware stores are not fine enough for jewelry making.

Other Tools
Findings