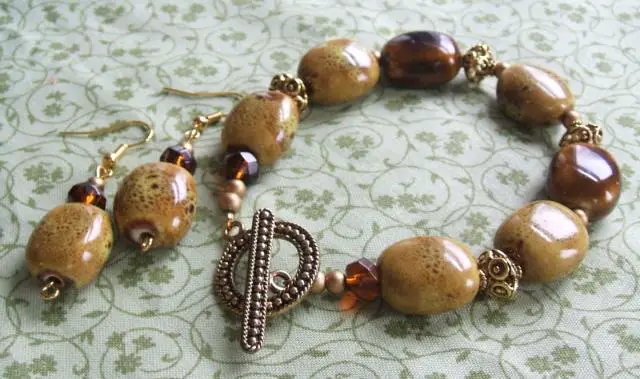 I'm beginning to really appreciate ceramic beads (as a newbie beader, I thought them gaudy!) and this elegant earring and bracelet set is as easy to create as it is beautiful.
These smaller spacer beads I used were the perfect color and not too obtrusive. For the larger spacers, I used elegant gold ones that complemented the clasp. I tend to favor materials reminiscent of an age gone by, and this toggle clasp gives an antique feel, which adds to the beauty of the ceramic beads. If I had some on hand (which I didn't!), I might have tossed in some topaz Swarovski crystals to make this bracelet really sparkle.
Supplies
Tools
Materials
8-10 large beads
faceted beads of a matching color
several kinds of spacer beads, including small beads that match your metal color
a clasp
Techniques
Instructions
Bracelet
1
Lay Out Your Beads
Arrange your beads and spacers on your design board.
2
Start With the Clasp
String your
beading wire
through your crimp bead, then through the eye of one half of your clasp; bring it back down through your crimp bead, pull the
wire
taut and use your crimping pliers to crimp the crimp bead.
3
String Beads
String on your beads in the sequence you laid out.
4
Finish the Bracelet
Finish your bracelet the same way you started, adding the other half of your clasp. Using your
chain
-nose pliers, push the wire tail back through a few beads before snipping it off.
Earrings
1
Add Beads to Headpin
String the beads on eye pins to make your earrings – a large ceramic bead, one faceted bead, and one of your metal-colored beads. You could use
headpins
as well; since the beads have big holes, just put at least one smaller bead at the bottom.
2
Attach Earwire
Using your round-nose pliers, make a loop at the top of the headpin. Bend it back slightly so it is centered over the headpin. Slip the earwire into the loop and close it.