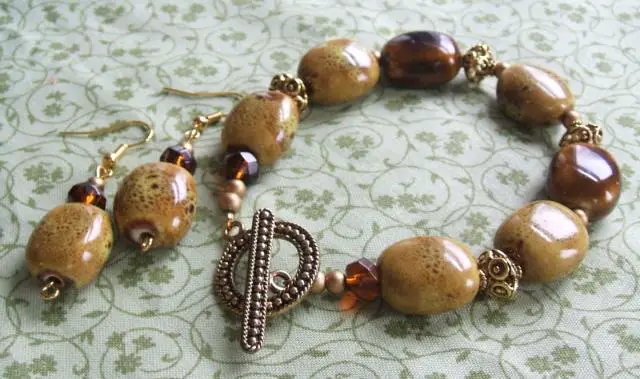 I'm beginning to really appreciate ceramic beads (as a newbie beader, I thought them gaudy!) and this elegant earring and bracelet set is as easy to create as it is beautiful.
These smaller spacer beads I used were the perfect color and not too obtrusive. For the larger spacers, I used elegant gold ones that complemented the clasp. I tend to favor materials reminiscent of an age gone by, and this toggle clasp gives an antique feel, which adds to the beauty of the ceramic beads. If I had some on hand (which I didn't!), I might have tossed in some topaz Swarovski crystals to make this bracelet really sparkle.
Supplies
Tools
Materials
8-10 large beads
faceted beads of a matching color
several kinds of spacer beads, including small beads that match your metal color
a clasp
eye pins
Techniques
Instructions
Bracelet
1
Lay Out Your Beads
Arrange your beads and spacers on your design board.
3
String Beads
String on your beads in the sequence you laid out.
Earrings