The beads in this necklace caught my eye because I liked the unique way they moved on the bead strand; I thought it created a look of depth and texture and, with this deep olive color, a look of warmth, as well.
This is a simple project that calls for very basic skills; you'll only need a good dose of patience for stringing these wonderful little beads.
Supplies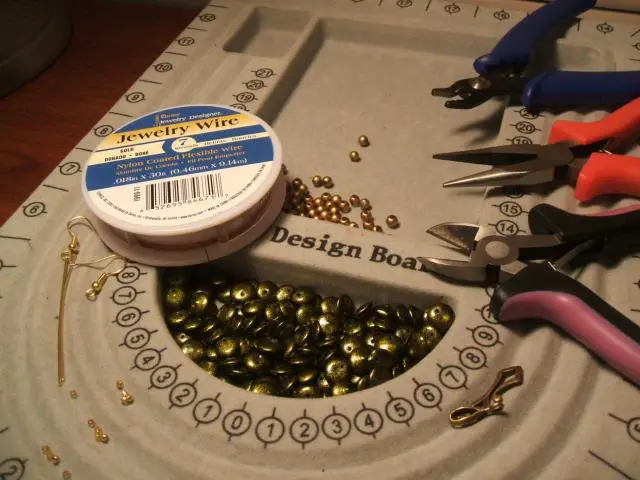 Tools
Materials
Techniques
Instructions
I really like the simplicity and continuity of this necklace. When I paired the green disks with the small gold beads, I knew I didn't want to clutter the look further, so I kept it simple.
Necklace
1
Start With the Clasp
String your beading
wire
through your crimp bead, then through the eye of one half of your clasp; bring it back down through your crimp bead, pull the wire taut and use your crimping pliers to crimp the crimp bead.
2
String Beads
String on your beads in a 4-green-1-gold sequence, until your necklace is as long as you want it to be.
3
Finish the Necklace
Finish your necklace the same way you started, adding the other half of your clasp. Using your
chain
-nose pliers, push the wire tail back through a few beads before snipping it off.
Earrings
1
Add Beads to Headpin
Add beads on the headpins in the same 4-green-1-gold sequence – repeat it twice, 4-1-4-1.
2
Attach Earwire
Using your round-nose pliers, make a loop at the top of the headpin. Bend it back slightly so it is centered over the headpin. Slip the
earwire
into the loop and close it.