I happened upon a fun idea after I went through my jewelry box recently. I keep saying how much I value simplicity, but you couldn't tell that by looking through my jewelry box — there were way too many earrings! I gathered up all the ones that seemed like a good idea back when I made them, but now just aren't worn much. That cleaned out some significant space.
Then today it hit me — why not see how many new pieces I can create from old earrings I no longer wear? What a fun challenge, right? If you have made lots of jewelry pieces like I have, no doubt you have lots of pieces hanging out doing nothing and rarely being worn. Why not take this challenge and see what new jewelry pieces you can come up with?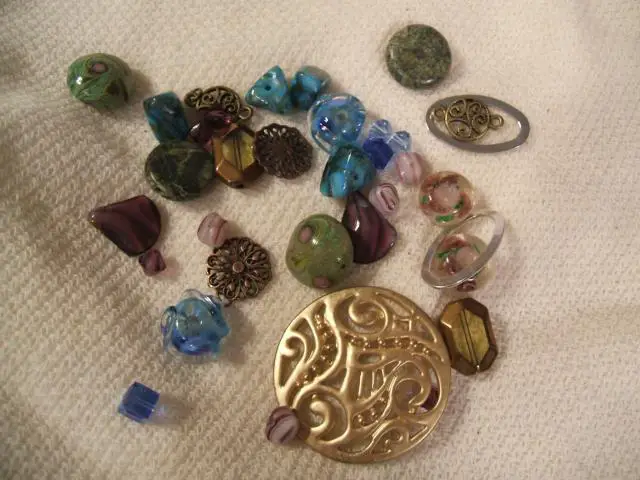 Here's what I started with. Okay, so the round gold pendant was a toss away piece from another chain. I threw it in for good measure. Hmmm. What can I create?
I looked at the group of beads for a while, and then I divided them into groups of beads I thought would look good together.
Already, I'm getting some ideas. How about you?
Oh, and by the way, you are allowed to throw in chain, jump rings, beading wire, ear wires, etc, to connect all your beads and turn them into a previously uncreated, beautiful piece.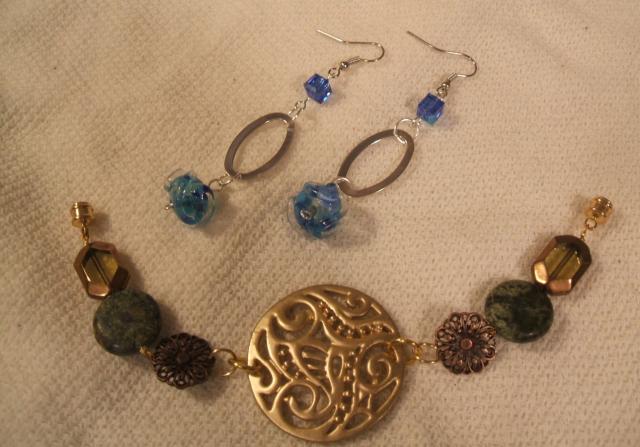 I knew I could easily come up with a few new pieces from my old beads, but the bracelet and earrings were easy favorites. I used the gold pendant as a focal bead and connected the other beads using jump rings, beading wire and a magnetic clasp. The beads for the earrings were such a natural combo, why didn't I think of this before?? I connected the lampwork beads to the silver ovals using eyepins and jump rings. The cube Swarovski crystals were added using the same and connecting them to ear wires. I feel a party comin' on with these puppies!
Have fun exercising your creativity with this beading challenge. Happy beading!