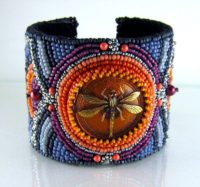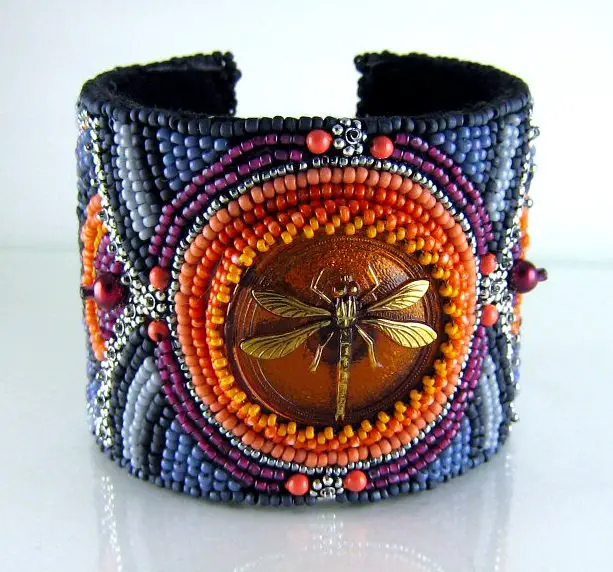 photo credit
Bead Embroidery

Bead embroidery is technique for adding beads to fabric using traditional embroidery stitches. Beads can be used as embellishments on an incredible array of items from garments to shoes to home decor.
Beaded enhancements can be added to fabrics in garments, accessories and decorative items to create unique handcrafted pieces. Bead embroidery can be an easy way to make store-bought clothing and accessories unique and personalized.
Some beaders use an embroidery process as an alternative to freehand beadweaving. They embroider small designs cloth, and then trim away the excess fabric leaving a beaded embellishment that can be glued or sewn to almost anything. Bead embroidery requires no elaborate supplies or tools. Just thread, beads, a needle, an embroidery hoop and some creativity is all that is needed to create beautiful beaded projects.
Bead embroidery is made with common embroidery stitches: chain stitch, backstitch, couching, or any other stitch desired. The backstitch, the thread is brought up through the fabric and one to three beads are strung. The needles is passed back through the fabric and brought back through the beads previously positioned. This process is repeated until the design is complete. For couching, several beads are placed on the thread and sewn to the fabric. Thread is brought from the back and between the beads to secure them.
One simple technique is to apply beads to a preprinted pattern on a colorful fabric. Beading adds texture and highlights areas of the fabric design. Using disappearing marking pens (available from a quilt or fabric shop) a design can be drawn by hand for beading. Numerous designs are available on iron transfer paper as well.
Seed beads are the most common type used for embroidery. Combining beads of different sizes and colors can enhance the design. Fringe and other dimensional beadwork add interest and texture.