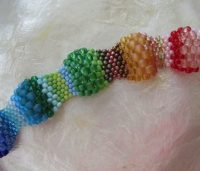 Beadweaving

Creating jewelry using thread to weave patterns and objects with beads, usually seed beads. Weaving can be done on a loom to create a flat fabric-like sheet of beads, or "off-loom" using a needle and thread.
Techniques or bead weaving stitches used to make large piece of beadwork which do not require a bead loom are considered "off-loom" bead weaving. Needleweaving is another term used to describe non-loom techniques.
Common stitches include brick stitch, peyote stitch (also called gourd stitch), chain stitch, square stitch, right angle weave, triangle weave, Dutch spiral, herringbone, ladder stitch and African helix. Although some of the beading stitches look alike, they each have different characteristics that produce individual and unique finished products.
Bead weaving techniques are done by hand, line-by-line. Beading off the loom offers the benefit of portability, since it can be carried in a small bag and worked while waiting for an appointment or taking public transportation. Off-loom projects can also combine different stitches and be made in irregular shapes for a very unique and handcrafted appearance. Both flat and tubular pieces can be crafted using an off-loom needle technique.
Needleweaving is also a great way to embellish loomed pieces, jewelry, accessories and decorative objects.